Discover more from Stained Glass Zealot
Revive Beauty, Revive Art. Follow me on Twitter @glass_zealot for more
In the 60's, Vatican 2 happened. After that, a lot of priests decided art was not their thing. A spiritually inspired place was too much for them. They hid tabernacles, crosses. Sold them on the public market. Nothing was too much. There's not enough debate on the topic, let's reintroduce it.
This essay will talk about what was removed. In later essays, I will explain why it was removed.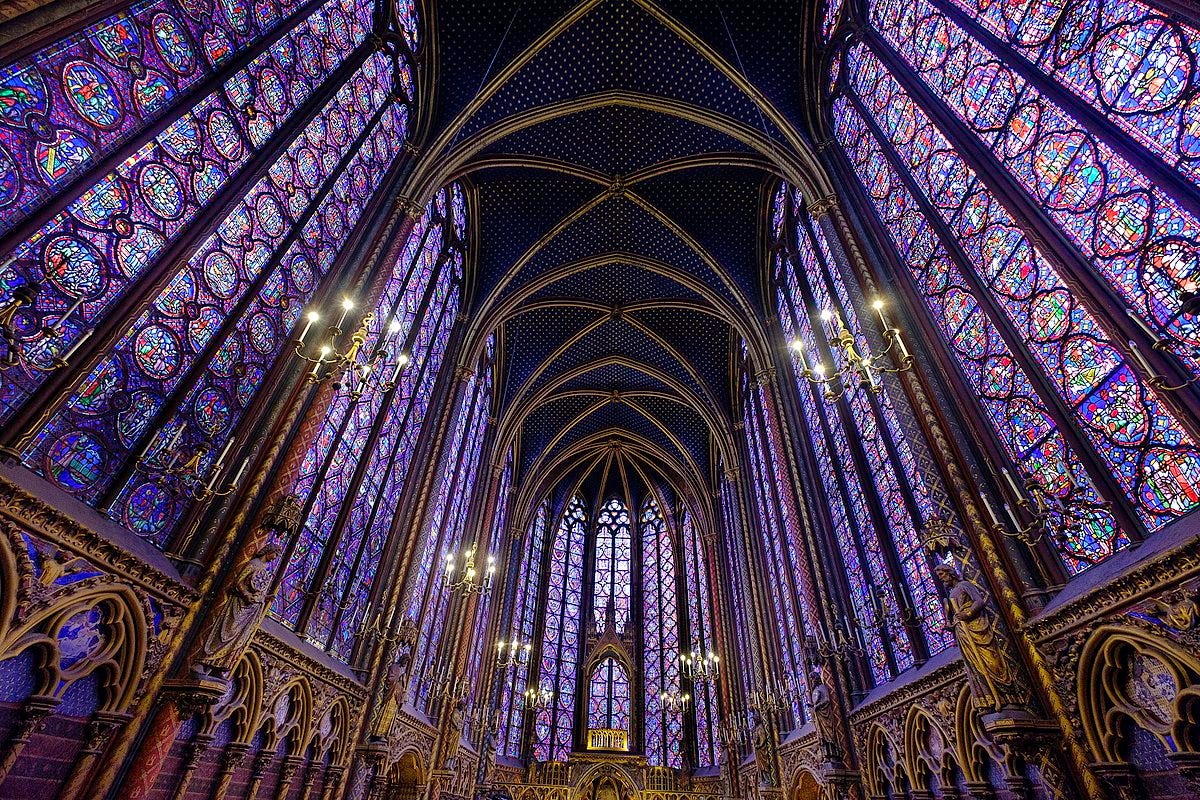 "All great mistakes of man start with overthinking"
Walking in modern churches
Walking in (most) modern churches, you get the feeling that emptiness feels eerily. Big, open halls, with no beauty inside. Patterns, paint and saints are removed… Is God really there?
The Wreckovation it is often called, the destruction of churches started. Now, not only the sacred objects have left, but also the people. Why would that be? It's often compared to iconoclastic (movement in support of destruction of depictions) modifications in the 16th century (Reformation) or in the 7th century (the Byzantine Iconoclasm).
This movement started with reforms in the 50's. The full impact of these reforms can be seen in modern catholic countries (Western Europe, United States). The "New" movement, not only brought the removal of Latin language, but also of beauty (later more on this). Especially in western Europe, they couldn't get rid of the ornaments soon enough. The destructions went further than the Council fathers and documents of Vatican 2 had foreseen. Overzealous new priests destroyed religion for others.
---
Why were they removed?
Move towards union with protestantism

Understandability for lay people

The church had to give money to the poor, not to beauty
Tradition is eternal, should be passed on intact. Destroy a monument that was built for god, is disrespectful. Something that lasted from 600 (more than 1500 years) after christ, was destroyed, stripped down. The eternal, was removed for the temporal.
Often wondered why your grandparents have that zeal? Are they stupid? No, they know real religion.
In short what was Vatican 2?
Changing of liturgy, removal of latin, host in hand, suppression of gregorian chants. A move away from Christianity and towards Ecumenism (so towards other religions).
What was removed or suppressed?
Popular devotions (Mary shrines, Rosary prayers, pilgrimages, processions, prayer of the Stations of the Cross/Via Lucis

Gregorian chants

Latin mass

Removal of beautiful stained glass, in favor of empty or abstract compositions

Saint statues, kneel chairs, altar, tabernacle, choir hedge, pulpit, relics, ex voto's, communion banks
Let's zoom in on the tabernacle. The priest and the people were oriented towards the east, Ad Orientem, towards the Lord. After Vatican 2, with the Novus Ordo (that's how the New Mass is called), priests oriented themselves towards the people, making a circle. This not only took away from the spiritual feeling. It also removed the focus from the tabernacle. It's used for storing the Eucharist. Often very ornamented and placed on the altar.
Once the focus was away from the tabernacle and put on the priest, all started to disintegrate. Beautiful crosses were sold, ornaments were removed, woodwork as well. It couldn't be soon enough. The focus was removed from the building, and put towards the people. Well, your building starts to crumble if it loses its meaning. If you change the house of God, you change religion.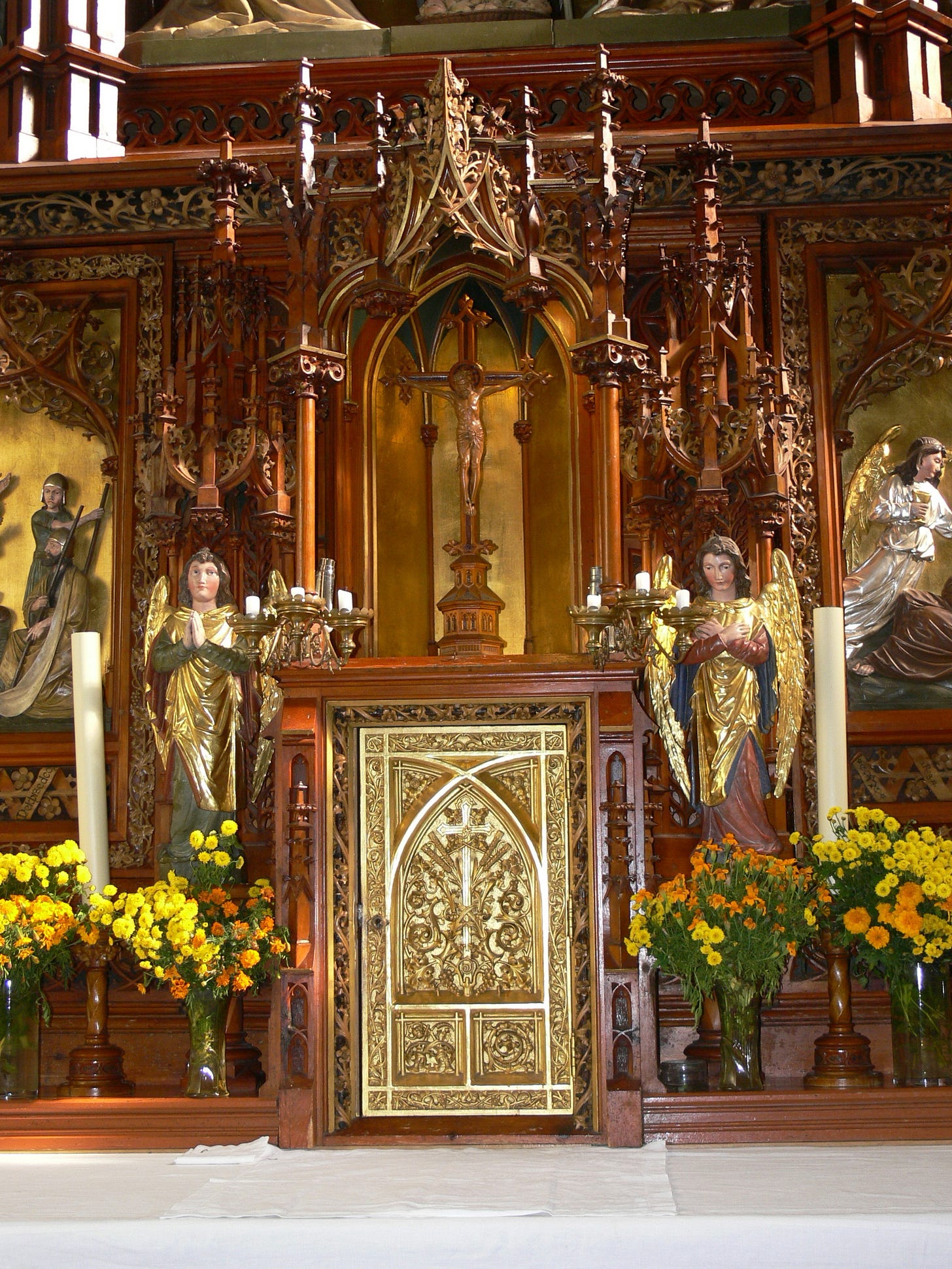 ---
Wreckovation and restauration
Words say less than depictions, so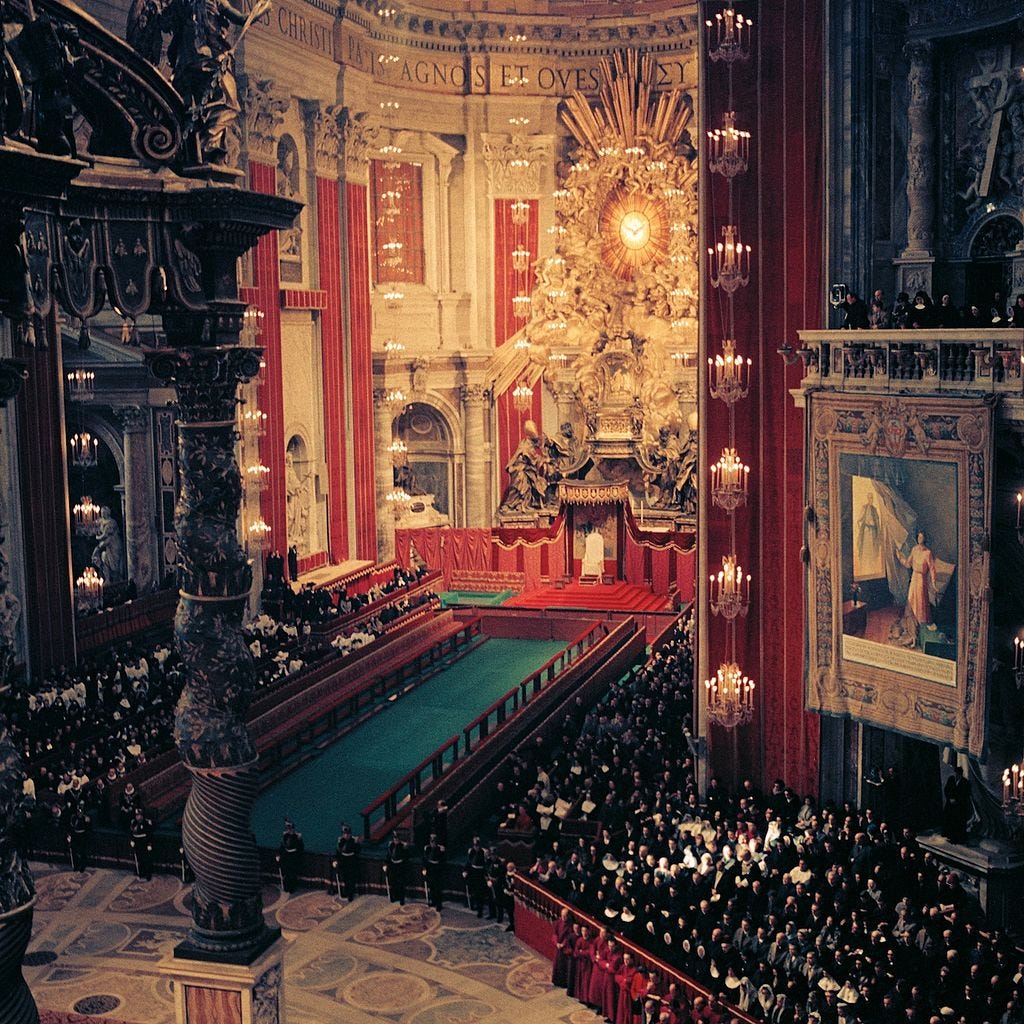 Destruction would soon happen. Beware! Beautiful picture taken at the Vatican 2.
The ideas changed, but there were never official documents saying how a church should be layed out. This was a perfect example of how ideas influence an environment. If you have messy thoughts, your environment becomes so.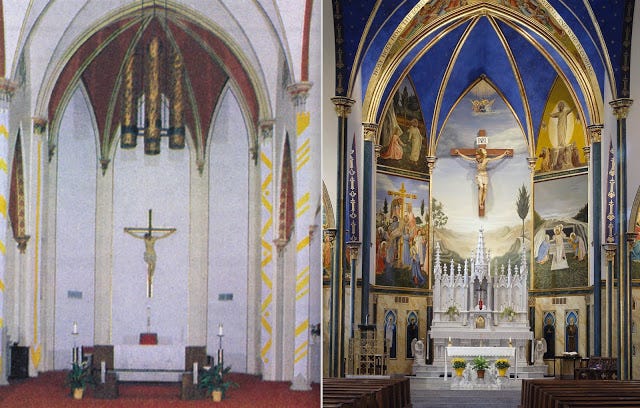 Before, after. Restauration in Illinois. Notice the difference (richness in color, beautiful altar, paintings…)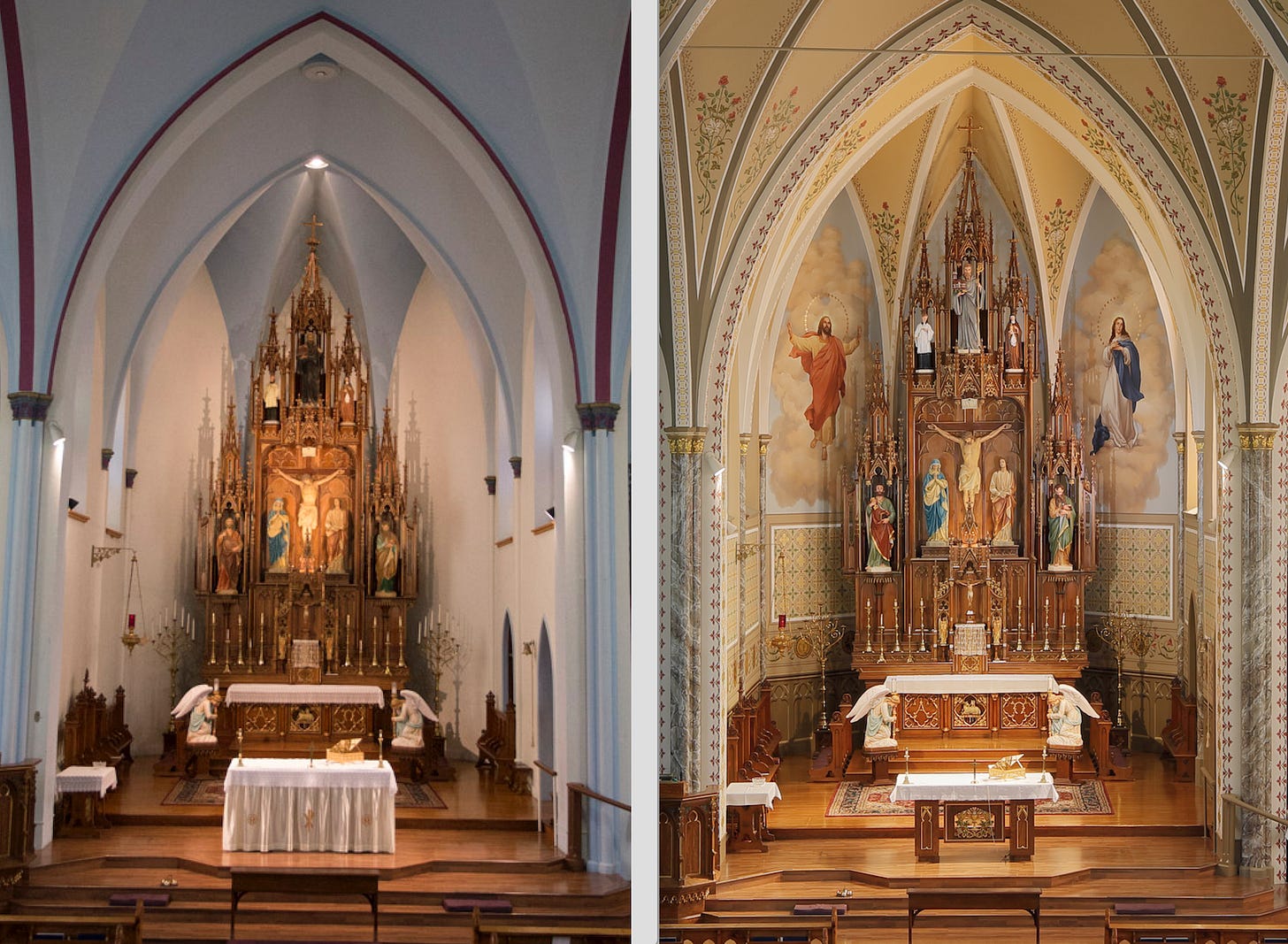 St. Columban Church, Chillicothe, Missouri.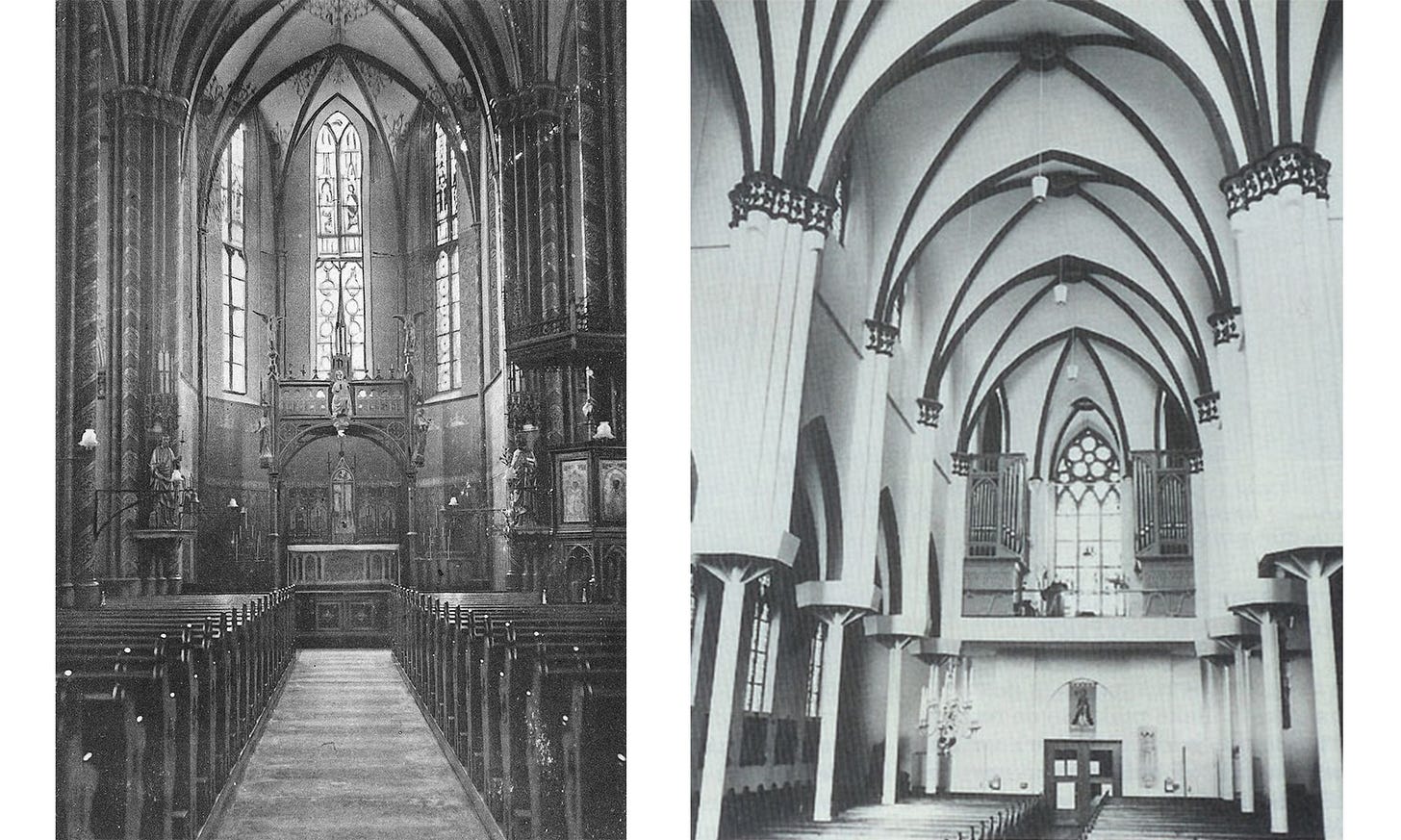 Saint Jacob church in Uithuizen, before and after second Western Iconoclasm. This is an opposite one. Destruction, instead of beautification. This happened all over Europe. Ornaments destroyed and sold.
Can we say Vatican 2 was a failed experiment? Catholics in Europe have dropped (1910 vs 2010) from 44 to 35 procent. Those are only the people that identify as. Only 18 percent are really going to church (once a month). The younger generation, never knowing that there was an ancient religion, wakes up to an oversimplification of it. The depth is gone. This is a real shame. The depth of tradition, lost, in the blink of an eye.
https://www.ncronline.org/news/world/europe-not-secular-you-think
The European youth still visits churches, but more from an aesthetics standpoint. While the aesthetics are only one part, it's far from the whole depth of a religious experience.
Sacred Stained Glass
Let's come to a specialization of mine: Stained Glass. I've seen a huge amount of it. During WW2, many windows were blown out. The replacements are a disgrace. They ride the wave of the special colored light, but that's it. Where are the detailed stories? Where are the many varied colors? Even the glass itself (not the depictions), used to have deep patterns.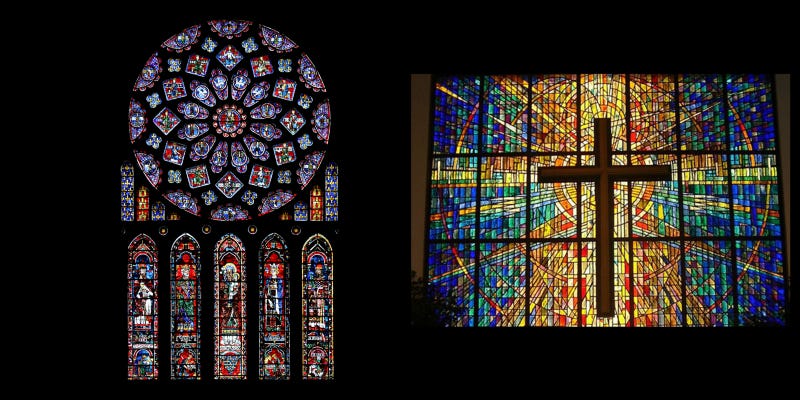 This is not only old versus new, it's also depth versus shallowness and meaning versus nothingness. Let's take the best elements, and leave the rest out. But it doesn't work that way. The excess adds to the essentials, they work in conjunction. These beautiful glass windows have existed over the years, because they were something Godly.
Conclusion
So what do I stand for? I stand for the restauration. The restauration of beauty, the restoriation of goodness, the restauration of truth. The little holy Trinity. I do this mainly through highlighting the beauty of stained glass. Why change something that worked?
I'm not a simplicity hater, though. Some buildings can look beautiful in their simplicity, but most don't. Some ancient chapels have this charisma. It changes when buildings that are built for one aesthetic, get another. Something clashes.
Catholicism as we see it now, is a completely different religion than that one from the past. If you forget religion, you forget your past. You cannot understand European history from a secular viewpoint.
If you found this essay interesting, consider following me on Twitter, Stained Glass Zealot.
I'm still figuring out this newsletter as I go. I will certainly write more, don't forget to sign up, if you found this interesting. Or leave a comment. Until the next one.